How To Manage Your Showings with ShowingTime
Once your listing goes LIVE in the MLS, it will be syndicated on the major house hunting sites such as Zillow, Trulia, and Realtor.com (and many more). Once Realtors and buyers are notified of a new property available, they will want to see it. Our agents use ShowingTime to communicate and ask for permission from you to show your home. Please confirm as many appointments as possible. The directions are below. Remember, the most convenient time to sell your house is when it's convenient for the buyer!
1. Look for email.
You will receive an email from Shelley Berendt (Team Leader) with the subject line, "Access Your Listing in ShowingTime." The email will look like the above 2 photos. Click on the big blue button - Create Account or Log in
2. Create an account
You will be directed to create a username, put in your email and create a password. Make the password you can remember. Then go back to your email to verify the account.
3. Verify Account.
Check your email and click on the big blue button again. You are getting the hang of this now. The button will ask you to sign in with your new username and password.
4. Set up your details.
Your account will look something like this. You can add anyone else that would need to be aware of showings, or can approve them. You also have the ability to direct when you are notified of showing requests or changes. I'm not going to lie, sometimes we are requesting showings at 10 PM for the next day. If you don't want late or early notifications, then please pay attention to the time frames. However - do not turn them off during work hours - that is when most of the requests will come through. It is in your best interest to respond to these requests ASAP.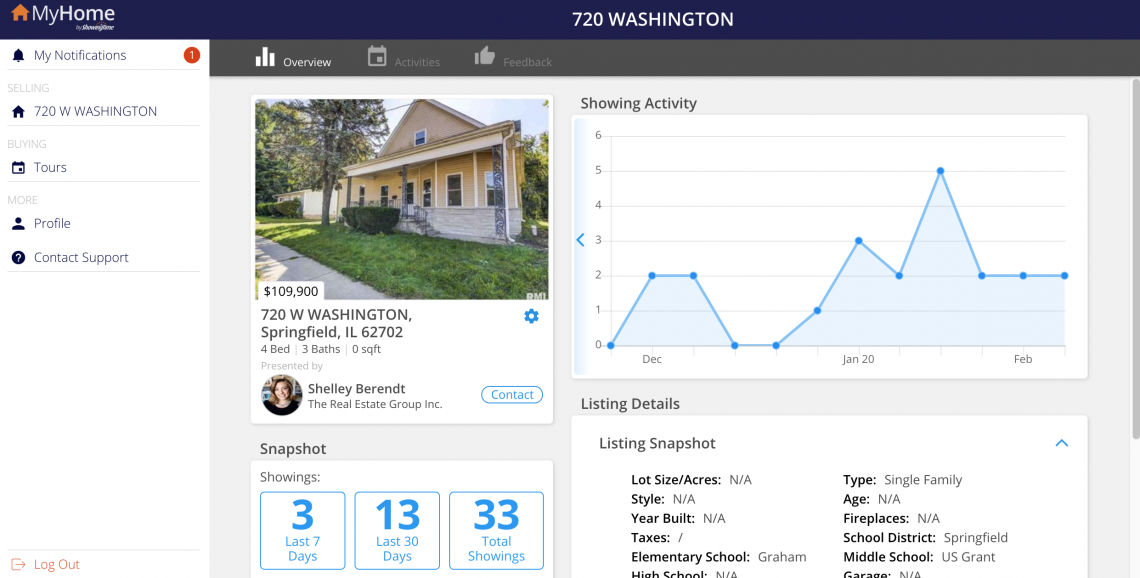 5. Property data.
The next screen will show you your property data. This is where you can monitor the showing activity. Don't worry about the property data not being filled in, the site is not about the property information, just the access. This is also where you can find any feedback that agents leave. And please remember, feedback is rarely immediate. It might take a day or two before the showing agents respond to our request for feedback.
6. Confirm appointments.
When an agent requests a showing you will receive a text from a 312 area code phone number. The number will be different each time, but the area code is always the same. It looks like the video on the right. You will need to confirm or deny the showing. Your agent can see the request, the confirmation and any denials. If the appointment is canceled by the buyer's agent, you will be notified in the same way.
That's how we use Showingtime to manage the people wanting to view your property. We hope this made this step of the process easy to understand.